Denver, which is referred to as the mile-high city, has a plethora of attractive qualities. From its rich history to its top-notch real estate to its beautiful homes, this city has no shortage of beauty. If you're considering making the move to Denver, the first step is finding a style of house that resonates with you. Denver is defined by an eclectic blend of architectural styles, enabling potential home buyers to find a home that suits their personality and preferences. Below is a sneak peek into some of the most popular architectural styles you can expect to find in Denver. Read on to learn more!
1. Victorian
While driving through Denver, you'll most likely see an assortment of
Victorian-style homes
. This style often conjures up images of a dollhouse with its ornate features and picturesque aesthetic. With so many distinctive qualities, this regal style is easy to recognize. Victorian-style homes emerged between 1830 and 1910 during the reign of Queen Victoria, and they gained popularity for their unique appearance, appealing to the romantic Victorian idea that everything from fashion to architecture should be beautiful instead of practical. These Victorian homes are some of the oldest in Denver, offering a glimpse into the rich history of the city. The Victorian era was responsible for producing a handful of notable styles, including Queen Anne, Italianate, Romanesque, and more.
The Victorian style was inspired by the Gothic style while exporting French, Italian, Tudor, and even Egyptian elements. Additionally, designers were encouraged to incorporate styles as they saw fit. The result of this is that there are very few Victorian-style homes that look the same. These homes are generally expensive, stretching over two to three stories. Victorian styles are known for their somewhat complicated, asymmetrical shape with a wood or stone exterior. The trim is decorative and elaborate, often boasting bright and vibrant colors.
2. Denver Square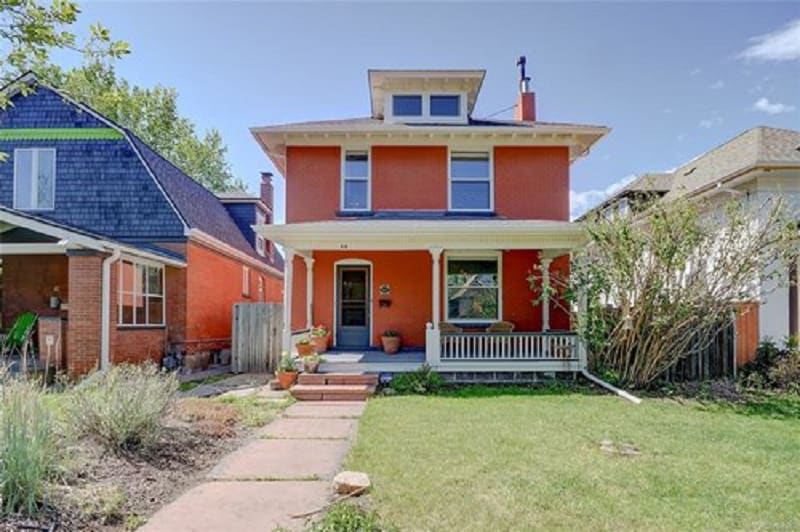 Credit: CU Denver News
While Victorian-style homes are all about making a statement, the
Denver Square style
is all about efficiency and practicality. The official name of this style is Vernacular Classical Revival Style, but its popularity in Denver earned it the nickname as the "Denver Square." This Foursquare home peaked in popularity after Denver suffered economically following the Silver Crash of 1893. The Denver Square style is still a prominent part of the real estate scene in Denver today, and these homes can be seen on every block within a five-mile radius of Denver's epicenter.
Resembling a simple box, this style typically comprises two stories. Practical brick was the primary material used, although other materials were chosen occasionally. The inside of the home is equally as efficient, with a large amount of usable space. Although efficient and practical, the original homeowners could add unique details to make the home truly its own style. This style is easy to update and remodel due to its original box shape. As a result, these homes are still a practical choice to this day for any lifestyle.
3. Tudor
While driving through the neighborhoods of Denver, there's a good chance that you'll spot a
Tudor-style home
. This style is perhaps one of the easiest to recognize. They are known for their charming, old-world feel that looks right out of a fairytale. The name implies an ode to the early 16-century Tudor dynasty in England. Tudor-style homes emerged in the United States in the mid-19th century. They continued to grow in popularity until World War II, as builders focused their attention on affordable housing.
The Tudor style is known for its smattering of materials, solid masonry, and elaborate shapes. Some defining characteristics include a steeply-pitched roof, chimney pots, and a brick exterior accented with decorative half-timbering. Clusters of windows -- sometimes rectangular or diamond-shaped -- are also a common characteristic of this style. Though not in the center of the home, the front door is a primary feature of Tudor homes and generally consists of a rounded arch.
4. Mid-Century Modern
Mid-century modern
homes are known for their enduring popularity. They are characterized by their clean lines, different materials, large glass windows, and open spaces. While there is some disagreement regarding when this period started, these homes were primarily built from 1945 to the late 1960s. This style received inspiration from the high prairie style, which was developed by acclaimed architect Frank Lloyd Wright. Mid-century modern homes have seen a surge in popularity over recent years. It's also important to note that mid-century modern was initially considered a collection of homes constructed after World War II, rather than one specific style. Regardless, the timeless appeal of this home is what continues to appeal to today's homeowners.
Mid-century modern homes have several distinguishing features, starting with their clean lines and minimal fuss. The style can be identified by its uncluttered and sleek design and its organic and geometric architecture. This style also highlights minimal ornamentation and minimal fuss. Contrasting materials are often used, including traditional materials like wood and non-traditional materials like metal, glass, vinyl, and plywood.
5. Ranch
Designed to withstand heat, it's no wonder that
Ranch-style homes
are a popular choice in Denver! In fact, they are one of the most popular styles in America and can be found all over the country. Whether in the suburbs or coastal cities, you've likely come across this style plenty of times. Traditional ranch-style homes are single-story houses designed with an open-concept layout and a dedicated patio space. Generally, there are five types of ranch homes: California ranch, suburban ranch, split-level ranch, raised ranch, and storybook ranch.
One of the main draws of this style is its open and inviting floor plan. While this style originated in the 1920s, they were futuristic in their open-concept, wide floorplans. While this style does not typically feature a second floor, many have finished basements. Additionally, while most Ranch-style homes are rectangular, the shape can vary and are often built in "U" or "L" shapes. Additional characteristics include sliding glass doors that open onto the patio or backyard and an attached garage.
6. Craftsman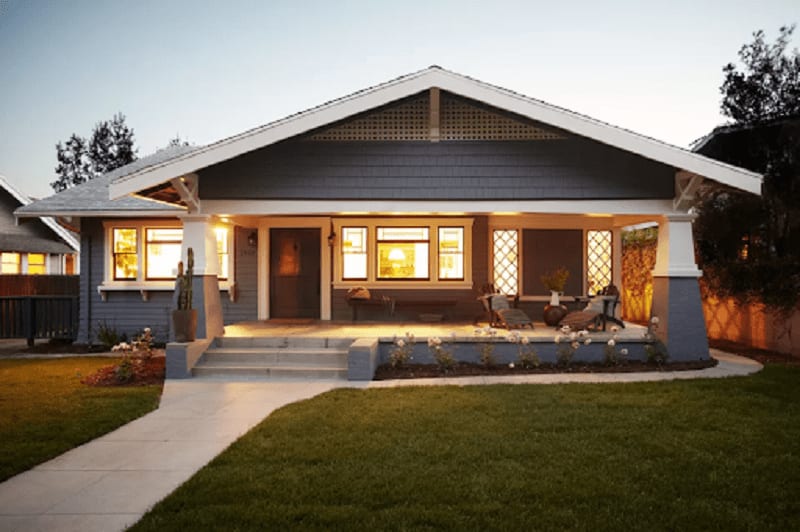 Credit: The Spruce
Craftsman-style homes
exude charm and character! This style originated in the 1860s, but it didn't gain popularity until the 1920s and 1930s. Craftsman-style homes are seeing a resurgence in popularity in Denver. Much like the Denver Square, this style was developed in opposition to the extravagant Victorian homes that dominated during the mid-19th century. While Victorian-style homes emphasize grandeur and beauty, Craftsman-style homes are centered on simplicity, warmth, and charm.
This style places a strong emphasis on solid crafting, quality handiwork, and natural materials. From the outside, you can spot this style by its powerful angles, covered front porches, tapered columns, and overhanging roof eaves. The inside, meanwhile, includes lots of interior woodwork. This can be demonstrated in built-in shelving, framed windows, and rich fireplace mantels. You'll also notice exposed ceiling beams, chunky window trim, and wide paneled doors. Craftsman-style homes in Denver have often been renovated and revamped, yet they still manage to retain their endearing timelessness. It's no wonder this style continues to hold its value!
7. Contemporary
As Denver has steadily evolved since its early days, so has the housing landscape of the city.
Contemporary-style
homes have been a pivotal part of the Denver landscape. Although not easy to define as other Denver architectural styles, this style generally refers to homes designed and built today.
Even more so than the modern style, this home tends to incorporate asymmetrical features and expertly uses line and glass. Contemporary homes have several defining elements that make this style stand out. This includes open spaces, large windows, rounded forms, curved lines. This style often uses mixed materials on the exterior and bold, geometrical lines.
Additionally, Contemporary style homes emphasize the use of natural materials like stone, light, woods, and glass. Natural lighting is a common feature of this style, and this results from the often large, spacious windows and ample skylights. This style is all about indoor and outdoor living, as the rooms often seamlessly blend from one to the other. It's the perfect option for those who appreciate entertaining guests or hosting parties.
If you're looking to explore luxury real estate in Denver, contact
Rankin Goulder & Kissinger
today. Whether you're looking for a short-term rental or a forever home, this talented team can walk you through the process from start to finish and help you find a place that's right for you. With years of experience in the real estate industry and a deep knowledge of Denver, Rankin Goulder & Kissinger can help you find a house that truly feels like home.